Bloemfontein Wedding Guide

Bloemfontein Wedding Guide is the most comprehensive online wedding guide and offers tips on most wedding related services in Bloemfontein and the Free State. Whether you are looking for a wedding planner, photographer, venue, shoes, wedding dress, stationery, horse carriage, red carpet, chandeliers, flowers, wedding cake, DJ, bagpipe player or something else, if you don't find it here, you won't find it anywhere else...
Businesses In the Spotlight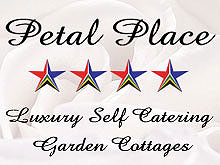 Petal Place Self-Catering Garden Cottage
Your hosts, Glenys and Basil, invite you to stay in their luxury, self- catering, garden cottages, where they guarantee you a comfortable and restful stay, friendly service and warm Free State hospitality.
Telephone:
051 451 1541